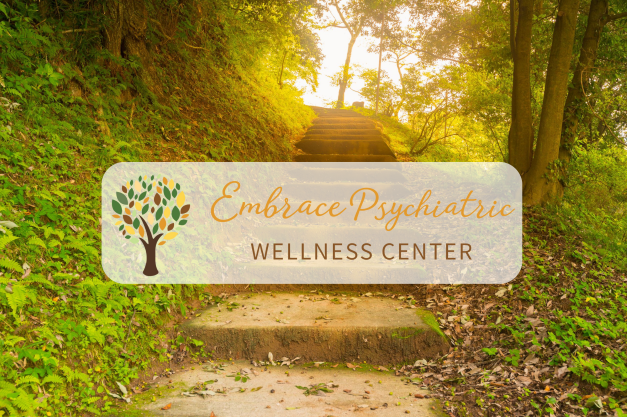 According to the American Psychiatric Association, depression – or major depressive disorder – is a common but serious medical illness that negatively affects how you feel, the way you think, and how you act. Depression causes feelings of sadness and/or a loss of interest in activities you once enjoyed. It can lead to a variety of emotional and physical problems and can decrease your ability to function at work and at home.
If your depression isn't responding to traditional antidepressants, you may have Treatment-Resistant Depression (TRD). Despite this condition's name, there ARE ways to manage and even overcome Treatment-Resistant Depression.
At Embrace Psychiatric Wellness Center, we offer safe, effective, and FDA-approved treatments that are designed to tackle this complex condition and help patients feel like themselves again.
When traditional depression treatments aren't enough, we may recommend SPRAVATO – a prescription nasal spray that the FDA has approved for TRD treatment. This medication is different from typical antidepressants because it targets specific receptors in the brain that play a role in mood regulation. Plus, while oral antidepressants may take weeks to show results, SPRAVATO will typically take just a few hours.
Embrace Psychiatric Wellness is a certified SPRAVATO treatment center, with locations in Westfield and Freehold, NJ. This medication is administered in-office during a two-hour appointment. One of our experienced professionals will monitor you while you sit back, relax, and enjoy the effects as your brain creates better connections.
One of our highly trained SPRAVATO technicians, Melanie, answers all your questions about this treatment:
What is SPRAVATO?
SPRAVATO is an FDA-approved esketamine nasal spray used in conjunction with an oral antidepressant for patients with depression that is resistant to medication and/or other treatments.
What is the difference between ketamine and esketamine?
Ketamine is typically administered intravenously while esketamine is an intranasal spray. Esketamine is a derivative of ketamine and is proposed to have the same antidepressant effects. Both target the NMDA receptor and work differently than traditional oral antidepressants.
Who is a good candidate for SPRAVATO?
SPRAVATO is used for adults with treatment-resistant depression (TRD) and major depressive disorder (MDD) with acute suicidal ideation. Typically, if the person has trialed multiple oral antidepressants with no relief in symptoms, they are a good candidate for SPRAVATO. Our practice requires a referral letter from the patient's current psychiatric prescriber to begin SPRAVATO.
What are the contraindications for treatment?
Contraindications for SPRAVATO include blood vessel (aneurysmal vascular) disease, an abnormal connection between veins and arteries (arteriovenous malformation), a history of bleeding in the brain, and allergy to esketamine, ketamine, or any of the other ingredients in SPRAVATO. SPRAVATO cannot be taken while you are pregnant or breastfeeding.
What are the common side effects of SPRAVATO?
The most common side effects of SPRAVATO include sedation and dissociation. Other side effects include dizziness, nausea, feeling anxious, lack of energy, feeling drunk, and feeling elated. These side effects typically go away after the two-hour in-office monitoring period, however, it is common for patients to feel lethargic for the remainder of the day after a SPRAVATO session. SPRAVATO causes an increase in blood pressure. Increases in BP peak approximately 40 minutes after administration and can last up to 4 hours.
How long does it typically take for SPRAVATO to be effective in treating depression?
Patients may see a decrease in depressive symptoms between the second and fourth week of treatment. Typically, if the patient is experiencing relief by the fourth week of treatment, is a good indicator that SPRAVATO will be effective for the patient.
How to prepare for your first session?
We encourage patients to dress comfortably and bring headphones, or any other items they wish to ensure their comfort to each session. It is important to go into every session with an open mind. Given the sedating effects, patients cannot operate vehicles or heavy machinery until after a restful night's sleep, therefore, the patient will need to plan for transportation on the day of treatment.
What happens during a typical SPRAVATO session?
SPRAVATO is self-administered in a private room under the supervision of a healthcare professional. Patients are observed in-office for a minimum of two hours before being discharged. Blood pressure is taken prior to administration, at the 40-minute mark (when it is expected to peak), and at the two-hour mark of treatment before they are discharged.
How long is the course of treatment?
SPRAVATO sessions occur twice a week for the first four weeks, and once a week for weeks five through eight. Most patients choose to continue with maintenance sessions after this period, with either weekly or biweekly sessions, depending on effectiveness and our provider's recommendation.
Is SPRAVATO covered by insurance?
SPRAVATO is covered by most major insurance companies.
What do I do to begin?
If you feel you are a good candidate and could benefit from Spravtao, take the first step to overcome your Treatment-Resistant Depression and contact us today to learn more about treatment-resistant depression and if SPRAVATO may be right for you!
Call: (908)-233-8065
Visit: embracepwc.com
Author: Sara Magnola Taner is an online marketing and communications specialist – with a website development and editorial background – who has 15 years of experience creating and editing clear, compelling content on diverse topics across a wide range of mediums